You're Worth Loving
This year St. Peter's UCC in Grant Park is providing the book A Love Worth Giving to You at Christmas by Max Lucado for our members to distribute to their families, friends, and neighbors as a small gift. 
Each book includes an invitation to worship with our church family on Christmas Eve.
Throughout Advent we are reminding everyone that they are worth loving! 
Lucado writes, "(Jesus) went from commanding angels to sleeping in straw.  From holding stars to clutching Mary's finger.  The palm that held the universe took the nail of a soldier.  Why?  Because that's what love does."
Each day, during Advent, join us for a journey to see just how much God's love for you is evidenced in the story of Christmas.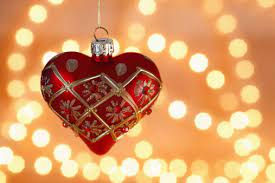 Christmas IS Love
Have you been busy lately with the preparations of Christmas?
Baking, decorating, and shopping?
It's easy to get too busy that we forget the real reason we are doing all these things.
I came across an online devotional yesterday written by Sharon Jaynes that was posted on crosswalk.com.
I typically don't borrow other people's wisdom while writing my own devotions; however, this one was too good not to pass along.
First, I encourage you to read I Corinthians 13. It's called "The Love Chapter."
The apostle Paul reminds us of God's most important gifts of faith, hope, and love but stresses the most vital of the three is love.
Jaynes' paraphrased I Corinthians 13 into what she calls I Corinthians 13 Christmas Style:
If I decorate my house perfectly with lovely plaid bows, strands of twinkling lights, and shiny glass balls, but do not show love to my family, I'm just another decorator.

If I slave away in the kitchen, baking dozens of Christmas cookies, preparing gourmet meals, and arranging a beautifully adorned table at mealtime, but do not show love to my family, I'm just another cook.

If I work at the soup kitchen, carol in the nursing home, and give all that I have to charity, but do not show love to my family, it profits me nothing.

If I trim the spruce with shimmering angels and crocheted snowflakes, attend a myriad of holiday parties, and sing in the choir's cantata but do not focus on Christ, I have missed the point.

Love stops the cooking to hug the child.

Love sets aside the decorating to kiss the husband.

Love is kind, though harried and tired.

Love doesn't envy another home that has coordinated Christmas china and table linens.

Love doesn't yell at the kids to get out of your way.

Love doesn't give only to those who are able to give in return, but rejoices in giving to those who can't.

Love bears all things, believes all things, hopes all things, and endures all things.

Love never fails. Video games will break, pearl necklaces will be lost, golf clubs will rust. But giving the gift of love will endure.

Written by Sharon Jaynes, https://www.crosswalk.com/devotionals/christmas-devotionals/forgive-us-our-christmases-christmas-devo-dec-15.html
Friends, YOU are WORTH LOVING, but don't forget the true meaning of LOVE!
Prayer:  Thank You, God, for the wisdom and thoughts of others that share the importance of keeping our focus on Your Son at Christmas.  Keep our minds and our hearts guarded in Your truths and love.  Amen.