Psalm 95
1 Come, let us sing for joy to the Lord;
 

   let us shout aloud to the Rock of our salvation.
2 Let us come before him with thanksgiving
    and extol him with music and song.

3 For the Lord is the great God,
    the great King above all gods.
4 In his hand are the depths of the earth,
    and the mountain peaks belong to him.
5 The sea is his, for he made it,
    and his hands formed the dry land.

6 Come, let us bow down in worship,
    let us kneel before the Lord our Maker;
7 for he is our God
    and we are the people of his pasture,
    the flock under his care.



Today, if only you would hear his voice,


8 "Do not harden your hearts as you did at Meribah,[a]
    as you did that day at Massah[b] in the wilderness,
9 where your ancestors tested me;
    they tried me, though they had seen what I did.
10 For forty years I was angry with that generation;
    I said, 'They are a people whose hearts go astray,
    and they have not known my ways.'
11 So I declared on oath in my anger,
    'They shall never enter my rest.'"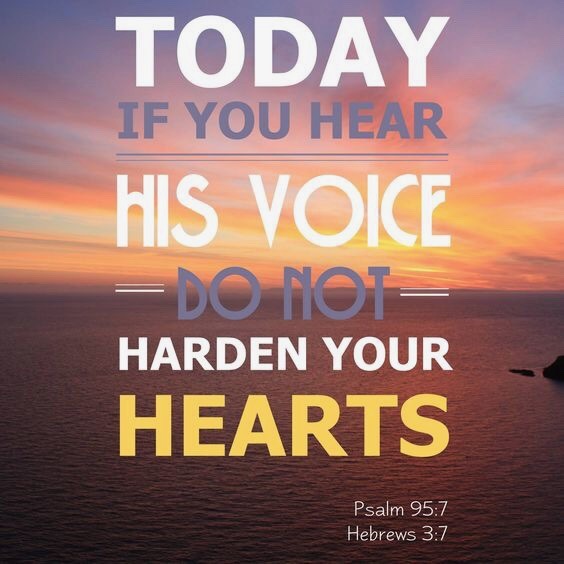 It's the last sentence of verse 7 that draws our attention today:
"Today, if only you would hear his voice."
God is always speaking! He speaks to nations, He speaks to leaders, He speaks to groups of people, He speaks to us invidividually. What is He saying, though?
We must admit, it is a daunting task to be able to sit quietly and patiently enough to hear what God is saying to us and then to discern if the Word is really from Him.
Afterall, we have so many distractions around us that interfere with opportunity to be still and converse with the God of the universe.
The first step, if we are to hear God's voice is to start a conversation with Him in prayer and solitude. Reserving a time and place for prayer allows you to get into the right frame of mind to not only talk to God, but to also listen to His response.
After that, learning to recognize God's voice and response, then to test that it is from above is an important task. One way to be sure that it is God's voice speaking to you is to test what is said, or laid on your heart, with the Scriptures. God will not tell you something that contradicts His very Word that has been given to us.
Finally, when God speaks….listen and respond. Often we are afraid to respond for fear of what others may think or because God's voice may be leading us to do something that causes us to be uncomfortable. However, Psalm 95:8 declares that when you hear God's voice we are NOT to harden our hearts.
Don't shut out what God has in store for you. Imagine the reward of response. If you follow God's voice in faith you are certain to shout the praises of God when all is said and done.
Prayer: Speak to us, O Lord, for we are listening. Reveal to us your marvelous goodness and remind us of your relationship with us. Not only do you desire to hear from us in prayer, but you also want to share your plan and will for our lives with us through the voice of Your Spirit. Help us to hear from You. Help us to identify Your voice. Give us courage to respond in faith. Amen.