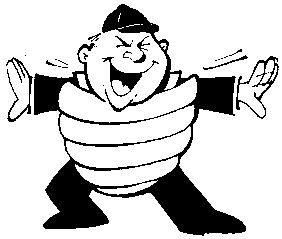 It's a phrase that I've heard a lot lately as a referee and umpire when coaches, fans, or players are upset with a call.
Mostly, it's used as an insult or a way to angrily express frustration towards the official.
I've also heard the phrase used a lot more in everyday life in a condescending way towards someone else.
"Be better." Or, "Do Better."
And when I hear it expressed from a coach, fan, or player towards me in the position as an umpire I realize that while they may be saying it out of frustration or as an insult to my performance, I also realize that maybe there is some truth to their suggestion to me.
Maybe I do need to "do better," or "be better."
It applies in every aspect of all of our lives.
Our Scriptures are full of encouragements and reminders that we need to better ourselves in every area.
Maybe as a parent we need to be better.
Maybe as a child we need to be better.
Maybe as an employee, or boss, we need to be better.
Maybe as a student we need to be better.
Maybe as an athlete we need to be better.
Maybe as a pastor we need to be better.
And, without a doubt, as Christians, we need to be better.
Not to be better to be self-righteous, or to look down on others, but because we want to glorify God in our thoughts, words, and actions.
Here are some Scriptures to consider:
"Learn to do good; seek justice, correct oppression; bring justice to the fatherless, plead the widow's cause."  (Isaiah 1:17).
"Do not be conformed to this world, but be transformed by the renewal of your mind." (Romans 12:2a).
"Know this, my beloved, let every person be quick to hear, slow to speak, slow to anger." (James 1:19).
"Let us not grow weary of doing good, for in due season we will reap, if we do not give up." (Galatians 6:9).
"Above all, keep loving one another earnestly, since love covers a multitude of sins." (I Peter 4:8).
How can we do better today? Towards God? Towards one another?
Prayer:  Forgiving God, help us to do better in every aspect of our lives.  Teach us to study, learn, and change where needed to glorify You in our lives.  As You have forgiven us in our faults, help us to forgive others who may not be doing good towards us.  With the same measure of forgiveness we use towards them may be used towards us; therefore, let us forgive completely, love completely, and give ourselves to You completely.  Amen.